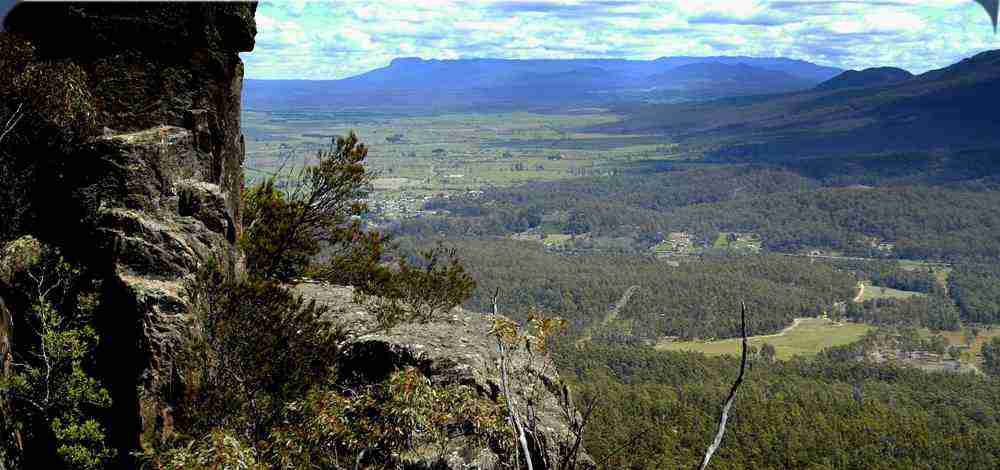 Land Gift:
(continuing from Home Page)
On January 7, 2013 the Schier family of Falmouth made a generous offer of land to the Tasmanian Land Conservancy (TLC) and the North East Tasmania Land Trust (NETLT).
This block was originally granted in 1872 to John Frederick Lohrey one of four brothers who had arrived on the East Coast of Tasmania from Hamburg, Germany in 1855. Unlike his brothers Phillip, William and Henry, John chose not to clear and farm this land and it remained in the John Lohrey family for three generations until purchased by Gilbert Schier in 1974.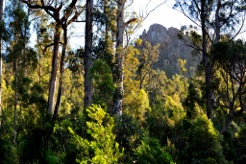 Gilbert's wife Jean is descended from John Lohrey and, following her death, her children David, Val, John, Murray and Robert Schier decided to conserve the forest on it and protect the land for future generations by bequeathing the block to the land trusts of TLC and NETLT.
"Both my mother and father would be really pleased that this land will now be conserved, " said Val Schier. "Dad always respected and looked after the bush and my mother was a bit of an activist when it came to protecting the natural environment."
"It's satisfying to us that our distant cousins Andrew and Robin Lohrey, who are descendants of Henry Lohrey, are active members of the NETLT and have assisted my brother David in the legal practicalities of gifting the land."
Jane Hutchinson, the CEO of TLC and Andrew Lohrey Chairperson of the NETLT accepted the land gift on behalf of the organisations. Jane thanked the Schier family for their generosity in freely giving this land and congratulated them on their commitment to preserve the natural values of forests in the North East.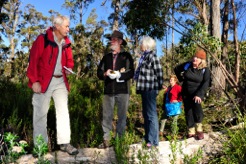 Jane said she hoped this generous gift by the Schier family would stand as a beacon to other North-east land owners to follow.
The Schier block has many conservation values on it being home to a range of rare and endangered species and as well as hosting many old blue gums that are ideal nesting habitats for the endangered Swift Parrot. In addition, the block is surrounded on three sides by reserves.
A conservation covenant is in the process of being placed on the block and when this is completed it will become a reserve in perpetuity.
In the last six months TLC and the NETLT have signed a Memorandum of Understanding (MOU) in relation to working together in the North-east. Both organizations have the same objectives of protecting, enhancing and conserving the natural environment by acquiring and managing private land of ecological value.
The land gift by the Schier family represents the first material expression of that MOU. TLC will hold the title of the Schier reserve while the yearly and local management duties such as weed control and rates will be the responsibility of the NETLT.
On Sunday 28th April 2013 members of the NETLT along with Val Schier walked through the forest reserves surrounding the block get a first hand experience.
To mark the occasion on this sunny afternoon Todd Dudley read the following from Our Land, Ourselves, "To say this is my home and I care about it enough to protect it, is the essence of citizenship, and to act on such words begins to move from isolation to community".
Monitoring Program Underway
The North East Tasmania Land Trust together with the Tasmanian Land Conservancy has begun an ecological monitoring program on the land that has been given to us by the Schier family. This block is called Stoney Farm and the name seems very appropriate.
On 14 May James Hattam from TLC and Andrew Lohrey and Peter Troode from NETLT spent the day on Stoney Farm establishing monitoring sites to record evidence of fauna as well as the growth patterns of local flora.
The data received from these monitoring sites will become part of the TLC's Reserve Monitoring Geodatabase.
Two motion-sensing cameras were set up to record the presence of both native as well as exotic (feral) animals. It will be interesting to see what has been photographed when we return to the sites in a few weeks.
Two fixed photo point sites were also established to begin recording the growth patterns of the understory. In 2006 this land was subject to an extreme bush fire that destroyed a great deal of the understory. However, most the canopy survived.
Stoney Farm has a conservation covenant on it, which means that it has a status similar to a reserve. It has Forestry Reserve on three sides, which adds to the natural values of the land. Conservation covenants aim to protect and enhance the natural, cultural and/or scientific values of a piece of land.
Here are some early monitoring results:
Tracking of trends over time will involve further monitoring. NETLT is keen to undertake this work and to involve members in the monitoring program. A number of fundraising events have been organised this year to help get this underway, and to support the maintenance of Stoney Farm into the future
Ten species were recorded:
Echidna;
Pademelon;
Bennet's wallaby;
Spotted quail thrush;
Brush tail possum;
Common wombat;
Forest raven;
Spotted-tail quoll;
Southern brown bandicoot;
Feral cat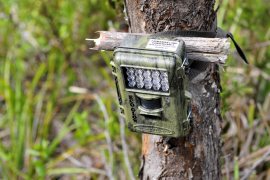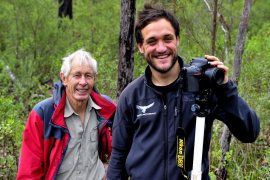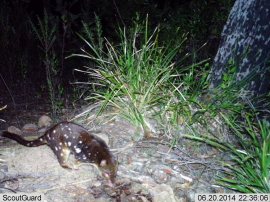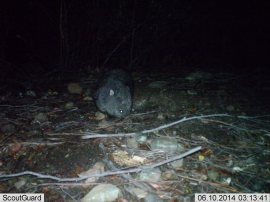 ---
The St Marys Protected Landscape
The St Marys Protected Landscape is a corridor of land that links the Mount Nicholas Range and the South and North Sisters with St Patricks Head and Mount Elephant ranges. Much of this area is already reserved as state or forest reserves, while some of it is private land. There is, however, no current linking management plan for the area and so no integrated conservation principles being applied.

Download the pdf map file
The St Marys Protected Landscape is a hot spot of biodiversity and needs an integrated management plan. This plan will identify resources and recommend how this unique area, home to so many endangered species, can be protected for future generations. The plan will look at the various land tenures and recreational activities and consider how these can be best managed in relation to the principles of linking landscapes. The underpinning authority of the management plan comes from existing legislation, intergovernmental agreements and codes of behaviour. The management plan will be funded from donations. In addition, there are several possibilities for NETLT to purchase land within the St Marys Protected Landscape for conservation purposes.
---
Endangered and rare species in the St Marys Protected Landscape
The St Marys Protected Landscape is home to the following Threatened fauna species:
| | | | |
| --- | --- | --- | --- |
| SPECIES | COMMON NAME | STATUS TASMANIA | STATUS COMMONWEALTH |
| Tasmanipatus anophthalmus | Blind velvet worm | endangered | not listed |
| Tasmanipatus barretti | Giant velvet worm | rare | not listed |
| Perameles gunni | Eastern barred bandicoot | not listed | vulnerable |
| Aquila audax fleayi | Wedge-tailed eagle | endangered | endangered |
| Acipter novaehollandiae | Grey Goshawk | endangered | not listed |
| Haliaeetus leucogaster | White-bellied sea eagle | vulnerable | not listed |
| Lathamus discolor | Swift parrot | endangered | endangered |
| Sarcophilus harrissii | Tasmanian devil | endangered | endangered |
In addition, there are 15 threatened species of flora which have been identified in the area and which are also under threat from logging.
The Head of the Tasmanian Herbarium, Dr Gintaras Kantvilas has said that the area of the South Sister "has a remarkable lichen flora which includes several unusual species both in Tasmania and a wider context". (Letter 31 January 2005)
In a report on a visit to the area (September 2004) Dr Peter McQuillan from the Centre of Environmental Studies, University of Tasmania noted that this area is a "known biodiversity hotspot, but there is poor documentation of the distribution of local species and limited understanding of their association into functional ecological communities." Dr McQuillan went on to say, "...(a) better knowledge of the regional diversity of Tasmania is essential as a guide to sustainable management of resources, since maintenance of biodiversity is a key indicator of sustainability."
---
Break O'Day National Park
The Tasmanian Forests Intergovernmental Agreement between the Commonwealth of Australia and the State of Tasmania, signed on 7 August 2011, agreed to immediately place 430,000 hectares of native forests into Informal Reserves and that, subject to verification, State legislation would formally protect these areas with appropriate land tenure.
Some of the 430,000 hectares of Informal Reserves are located around the town of St Marys. In addition to these Informal Reserves the St Marys area also contains the State Reserves of St Marys Pass State Reserve, St Patricks Head State Reserve and Little Beach State Reserve. These state reserves together with the Informal Reserves and several forestry reserves constitute a natural interconnected single area containing high conservation values. This area was identified by the North East Tasmania Land Trust as the St Marys Protected Landscape. It has now been proposed that the St Marys Protected Landscape becomes the Break O' Day National Park.
In early September 2011 a submission for a Break O' Day National Park was drawn up by the Greater Esk Tourism Inc. and sent to the Hon. David OByrne, State Minister for Economic Development; the Hon David Crean, Federal Minister for Regional Development; and the Independent Verification Group led by Professor Jonathan West.
This submission contains three general proposals:
Firstly, that the Informal Reserves surrounding the town of St Marys, together with existing state and forestry reserves, be permanently protected with the status of a National Park, and that this park be called the Break O'Day National Park; and
Secondly, that the Break O'Day National Park be administered by a Conservation Management Trust (CMT). This would be an incorporated not-for-profit body made up of community representatives drawn from conservation groups in the area as well as from local business people and, in addition, would have a Parks and Wildlife Services representative on it. The CMT would oversee the management plan and propose regulations relating to the overall management of the park. The CMT would have a bank account, budget, hire staff and manage visitors and volunteers, and through this mechanism the local community would be directly involved in the management of the park and the promotion of the area.
Thirdly, that the initial establishing costs for the Break O'Day National Park be assessed and identified through a process of working in conjunction with the Commonwealth Government's Regional Development Australia. This is a place-based project and comes under Regional Development Australia's plans for economic diversification.
A copy of this submission is contained in the following pdf file:

Download the submission pdf file
Part of this submission for the Break O' Day National Park was a Natural Values Report prepared by Nick Fitzgerald, BSc (Hons). This report is contained in the following pdf file:

Download the report pdf file